It had seemed like football star and philanthropist Tim Tebow finally found success in the love department when he began pursuing former Miss Universe Olivia Culpo this year.
However, she recently dumped him allegedly because of his commitment to remain celibate until marriage.
According to the 
New York Daily News
, Tebow resisted all the physical advances made by Culpo, much to her frustration. After two months of dating, Culpo finally had enough of Tebow's "rejection" of her.
"(Tebow) was really into her. He was sending her love letters and cute notes and professing his love for her. She had to break up with him because she just couldn't handle it. He still hits her up, but she just can't deal with the sex thing. He's pretty adamant about it, I guess," a close friend of Culpo revealed.
Culpo hinted about their split on her Twitter account (@oliviaculpo). She writes, "Being rejected from something good just means you were being pointed toward something better."
Culpo's fans offered her tons of moral support. Tebow's fans and supporters, on the other hand, were simply infuriated with the beauty queen. "Better than Tebow?? Good luck with that. He was worth waiting for," someone writes.
Another adds: "Tim didn't reject you, he has publicly said he's waiting til marriage and is close to God. You should've respected that!"
A lot of people insisted that Culpo was not rejected because Tebow was really into her. They clarified that it was actually she who rejected the NFL player because she did not respect his commitment to God.
"She rejected him because she couldn't respect and accept his personal views. Sad," a fan comments.
Another posted the Bible verse Proverbs 31:30 and encouraged Culpo to "meditate" on it. The verse reads: "Favour is deceitful, and beauty is vain: but a woman that feareth the Lord, she will be praised!"
A day before Culpo hinted about their split, Tebow shared a Bible verse on his Twitter account (@TimTebow). He posts: "Give thanks to the Lord, for he is good; his love endures forever! Psalm 118"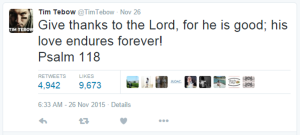 Sourced from christiantoday.com